This is the story of Norman Chad and his 25 Ex-Wives. This is a fictional story, but with a real person.
Norman Chad was the original blogger. He wanted to stay home, eat a bunch of junk food and basically make money by watching TV. He has done that, but starting as a young adult, Norman Chad was a chick magnet. If you think chick magnet, you would think attractive, can play around the English language, and has the "it" factor. You wouldn't imagine a chick magnet be like this: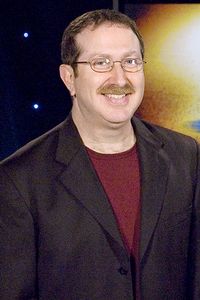 However, Norman Chad is living the life…way too much life. Norman Chad has been married 25 times. Here are 25 stories of each wife:
Wife #1 – Meredith: Norman and Meredith were in love through college. Norman was an aspiring writer, while Meredith wanted to be a government wonk. They wanted to live in suburban D.C. and raise a family…until Norman realize Meredith REALLY wanted to work for the government. Norman hated federal workers and hate talking politics. Meredith got a job for the government. The both split up just one year of marriage.
Wife #2 – Gloria: Norman spotted Gloria at a local Prince George's County Bar watching the Terrapins basketball game. Norman loved the way she can talk about sports and took her to his apartment. There, Gloria saw Norman was a mess. She took initiative and cleaned up Norman's apartment. Norman was stunned…yet attracted since she was cleaning and watching TV at the same time. Norman found her woman. The both were married in 1981 and it was a great year for Norman: got married, his favorite team, the Oakland Raiders, won the Super Bowl, and send columns about sports and TV. Several newspapers, including the Washington Post, picked up his column and Norman's career started. It was the life in the 1980s: man makes the money, the wife makes the house. It was going well until mid 1982, when the Raiders were allowed to move to Los Angeles. It was then Norman Chad wanted to move to L.A. to further enhance his career. Gloria loved her life. Then one day, Norman gave Gloria roses, a handsome man, and divorce papers. Norman Chad was heading to L.A.
Wife #3 – Jaime: Since Norman moved to L.A., he had all the luck: he was a syndicated writer, he started playing big-time poker, and his L.A. Raiders defeated the Washington Redskins in Super Bowl XVIII. At a Super Bowl party, Norman met Jaime. They had a nice talk and shared a lot of things. They got married in July of 1984. Marriage ended in December of the same year and Norman realizes Jaime was attracted to plastic surgery.
Wife #4 – Jeanne: Norman first met Jeanne at the 1984 Olympic Games in L.A. when she was a volunteer. Norman was stunned by Jeanne's good looks and wanted to marry her. The got married in early 1985…and lasted for 3 weeks since all Norman thought about Jeanne was sex.
Wife #5 – LaLaine: Norman met LaLaine at an UCLA game in 1986. What interested Norman going to UCLA was his alma mater, the University of Maryland, had a superstar in Len Bias. Norman got so excited for UMD basketball, he did not care LaLaine was a UCLA fan. It was blind love. They were married in May 1986. two months later, the couple was divorce not because they grown apart, but LaLaine's name was similar to Len's name and it had an emotional attachment to Norman since Len passed away by drugs. They became friends after the divorce.
Wife #6 – Jade: Norman took a break from dating in 1987 for one year after what happened in his last marriage. In 1988, Norman was back in the dating scene. She met Jade at a bookstore, reading up on various pop culture books. They were married in August 1988 after the Seoul Olympics and got a present from Michael Wilbon…cooked dog. Shortly thereafter, the couple vacationed in Hawaii. It was there, someone accidentally order the movie, Ishtar, at their room. Norman saw the movie since he had nothing to do. At the end of the movie, Norman was watching the credits and saw under, "Extras," Jade Hickenbottom…Norman's wife. Yep, Jade was part of the worst movie in cinema history. Norman didn't want to travel back to L.A. with an extra who was part of a terrible movie. So, Norman bolted and left a note to Jade and $1.25.
Wife #7 – Shirley: In 1989, Norman met Shirley in Las Vegas at a bookkeeping convention. Shirley knows the matchups and knew if the house was crazy or lax. Norman was impressed by her skills. They got married in June 1989. This was the first marriage Norman truly fell in love. In his columns, Norman started to put his wife in it when the one-liner, "Pay the man, Shirley." One little thing about the marriage is in the pre-nuptial agreement that if the Redskins win the Super Bowl during their marriage, they immediately divorce the next day and split their stuff, 50/50. Apparently, Shirley was a huge Redskins fan and she would never see the Redskins winning the Super Bowl again. On January 26, 1992, the Redskins won Super Bowl XXVI. One day later, the couple divorce. This was Norman's longest marriage to date.
Wife #8 – Destiny: So down in the dumps since the divorce…and the Redskins winning the Super Bowl, Norman was back to the dating scene and heading up the Las Vegas strip. Drinking his sorrows, Norman met a stripper name Destiny. He told his long story to her and had a one night stand. It was also they were officially married. Realizing this, Norman called it off after 1 day.
Wife #9 – Unknown: Norman decided to write a book about being a TV sports junkie, for this, he took out an ad looking for a woman to live with him for a few months so he has an inspiration for his book. Only one person answered his ad. The person did not have a name, but Norman had no choice. Norman brought in a judge and the two were married. Five months later, the book was finished and Norman dumped her to go on his book tour.
Wife #10 – Abigail/Wife #11 – Angie/ Wife #12 – Bethany/ Wife #13 – Georgia/ Wife #14 – Jennifer/ Wife #15 – Rachel/ Wife #16 – Doris/ Wife #17 – Maude/ Wife #18 – Brittany/ Wife #19 – Ginger:  Throughout 1993, Norman Chad was traveling the U.S. to promote his book, Honey, I'll Take You to the Hospital at Halftime (Confessions of a TV Sports Junkie). The book was a success and Norman was finally getting the attention…and the ladies. In a one-time stunt, Norman became a one day polygamist and married 10 women…and divorce all 10 women. Hence the "Sleeping with Angels" line he uses.
Wife #20 – Deidre: Norman took a break from dating between 1994-1996 with Nancy-Tonya, O.J., and the Olympics. He then struck a deal with America Online on posting his columns on their sports section. There, Norman discovered the internet, especially internet dating and chat rooms. This is where Norman's personality was a blessing…and a curse. By having his columns online, more people will see Norman's columns. However, the ladies would know his personality and quite frankly, he almost fits a description of a pedophile. There was one person who was interested in Norman. Deidre lived in Seattle and love the Pacific. There online chats were hot, and shared a lot of things. Norman did something innovative…he wanted to marry Deidre online through the help of AOL. Norman has never seen Deidre's face, but with their interaction through chat rooms, Norman sounded so confident, the woman who she is marrying, he didn't check who she looks like…or he. When the ceremony ended, Norman saw video of Deidre…a drag queen (real name: Joe Sanders). Norman realizing what he did, call it off the second he saw him.
Wife #21 – Dorothy/ Wife #22 – Cheryl/ Wife #23 – Nancy: Online dating has hurt Norman Chad's chances of really attracting a woman. Then in 2003, Norman had a second career. ESPN started to show segments for the World Series of Poker and wanted Norman to do commentary. Norman shine through the shows and became a TV star. It was also the 10th Anniversary of Honey, I'll Take You to the Hospital at Halftime (Confessions of a TV Sports Junkie). To relive his book release, Norman wanted to be a polygamist again. This time, he only married 3 people, not 10, since he has gotten older and and can't really handle 10 people. Basically the same as 1993: married and divorce on the same day.
Wife #24 – Leslie: With his new poker fame, Norman was swarm with fans and tons of ladies. He was getting interview requests and was the talk among the poker community. Norman also is a poker player and at a circuit tournament in L.A., he met Leslie. She had red hair and was a chatterbox. Norman reminded her of Tony Kornheiser. The couple married in L.A. in May 2004. Everything was right in Norman's world…until he had a rift with Kornheiser. It was the time at Monday Night Football is where Tony got the gig and Norman was either jealous or didn't know what to do. When Tony got the MNF gig, their friendship deteriorated. When the friendship deteriorated, Norman's marriage deteriorated. Norman and Leslie broke up in 2006.
Wife #25 – Toni: Norman realizing he was fast approaching 50 and wanted to settle down. After trials and tribulations with his dates and friends, Norman was seeking love again. We know the friendship between Norman and Tony Kornheiser declined, but Norman spotted a winner in Toni. They took a shot in married in 2007. Currently, they're still married. Let's hope they stay that way.